The unit is on the border between France and Belgium, west of Bailleul. A battle is in which is a German position is captured near Fletre.
Arrived about 4 am at CAESTRE and went into billets.
Moved off 9.30 am via FLETRE as advanced guard with R. War Regt to the Division moving Eastwards on 2 roads. R War Regt formed vanguard. They came into action about 11 am when we were just in FLETRE and Bn was ordered to move to N of FLETRE finally working eastwards and taking up a frontline under cover (reverse side of hill) just 400 NE of LFETRE. R War Regt appeared to be quite heavily engaged at times. The day was wet and rather thick, so that it was unsuitable for artillery.
About 2.30 pm we received orders to attack the German position which was said to extend from FOUNTAIN HOUCK opposite our left on a line southwards through Pt 62 and METEREN.
The frontage of the Division was as follows:
10th Bde from FOUNTAIN HOUCK to Pt 62
12th Bde from Pt 62 to FLETRE-METEREN road
11th Bde in Reserve at FLETRE
NB: 6th Division was on our Right, 2nd Cav Div on our left, the frontage of the Brigade was divided as follows:
Seaforth Highlanders: right on Pt 62
R Irish Fusiliers: left on FOUNTAIN HOUCK
R Dublin Fusiliers: in reserve in rear of our left flank
R War Regt in reserve in rear of our right flank
at PALNE BOSCH (withdrawing there as we passed through them).
At 3.15 pm, the Battn deployed to attack: C coy and D coy forming firing line and supports with A & B coys forming reserve.
The deployment took place about 1500 yards from enemy position. The leading corps threw out a section extended in front of the leading platoon which took up the frontage allotted to the corps. After advancing some 500 yards, they came under fire, still being unable to locate the enemy's trenches. Those could not be seen till a ridge about 600 yards from them was reached. We were then subjected to a fairly accurate though not really heavy fire; owing to the thick weather, our guns could not be used to any advantage, and were not firing into the enemy's trenches could not clearly be seen by us.
Some delay occurred here owing to trench not being properly established with 12th Bde on our right - Captain Baillie organised the assault on the enemy position in combination with R Irish Fusiliers and Essex Regt (27th Bde). Major Stockwell having pushed A coy up into the firing line. The position was carried at the point of the bayonet. A very flat open space had to be crossed by the Battn, which caused them several casualties as enemy's fire was exceedingly accurate. The Germans evacuated their trenches before we got in with the bayonet and as it was now very dark about 5.45 pm, pursuit across the enclosed country in front of us was impossible. The position was entrenched. A coy put out in poutposts the remainder of the Battn barracking in the open. Beyond a certain amount of sniping from the direction of METEREN, we were not bothered further that night. Very wet and uncomfortable.
We captured 1 German and they left on the ridge about 6 dead but covered communications by road to their rear could have facilitated them getting wounded and dead away.
Killed: 18
Wounded: 66
Missing: 1
Lewis casualty
Private NEIL SMITH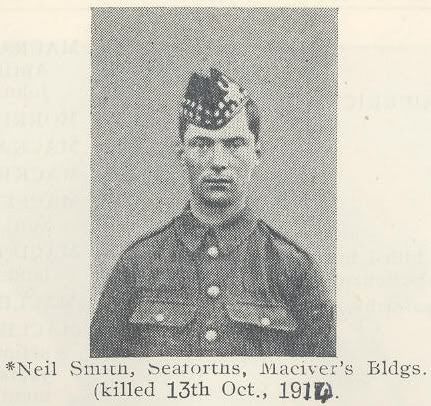 Last address in Lewis: 2 Maciver's Buildings, Stornoway
Son of Mr. and Mrs. Alex Smith, of 2, Maciver's Buildings, Keith St., Stornoway.
Service unit: 2nd Seaforth Highlanders
Service number: 3/6769
Date of death: 13 October 1914 at the age of 22
Killed in action in France
Interred: Meteren Military Cemetery, grave I. C. 99
Local memorial: Lewis War Memorial; Nicolson WW1 memorial, right panel