Murdo Graham is interred at Hazebrouck, which is listed as a casualty clearing station. It appears that he was injured in a previous engagement. I do not have access to his service record, meaning that the date of his wounding is not known to me. Murdo succumbed to his wounds on 17 October 1914.
On that date, his unit moved to occupy Armentieres on the Belgian / French border.
Lewis casualty
Private MURDO GRAHAM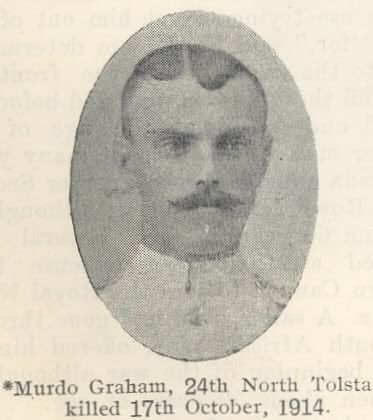 "Toibhaidhean" - Murchadh, Mac Alasdair an Lochain
Last address in Lewis: 24 North Tolsta,
Son of Alexander and Mary Grahame, of Back, Stornoway; husband of Christina Smith Grahame, of 24, North Tolsta, Stornoway.
Service unit: 2nd Seaforth Highlanders
Service number: 6480
Date of death: 17 October 1914 at the age of 31
Killed in action
Interred: Hazebrouck Communal Cemetery, grave III. A. 22.
Local memorial: North Tolsta
Joined Seaforths as a youth, and had served in India and South Africa. Left widow and 3 children. Native of Back