We find the unit at Ferme La Montagne, outside Bucy-le-Long, just east of Soissons in northern France.
During the night and early morning we dug trenches, and altered their position, drawing them back in rear of the crest of the hill so that they were invisible to the enemy. The field of fire was not materially lessened, still remaining very bad (from 100 to 200 yards only), but the general line confirmed better to the general line taken up by troops on our flanks - C & D corps relieved A & B after dark last night. Only intermittent shell fire was directed on us at first, and we were able to continue to improve our front line, as well as to dig in our supports and reserves. The tool cart had been brought up and we were able to make better shape at retrenching - about 11am heavy shrapnel fire was opened on us, followed later by very heavy high explosive shell fire. This luckily did very little damage as we were now well entrenched. There were a few casualties among men who were caught in the open - about 1pm, the fire weakened, and the afternoon was fairly quiet. After dark, work of improving trenches was continued, headcover and communication along the line being carried on with. The night was very wet but quite quiet. Heavy engagement on our left (French) and some firing on our right.
Killed: 2
Wounded: 6
Lewis casualty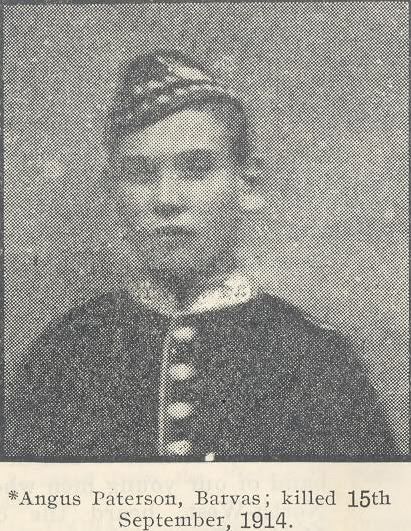 1149 Private
Angus Paterson,
5 Upper Barvas
Son of Kenneth and Chirsty Macdonald Paterson, of Mission House, Geshader, Miavaig, Lewis.
Native of Upper Barvas.
Killed in action, aged 18
Interred:
Crouy-Vauxrot French National Cemetery
grave A. 9.